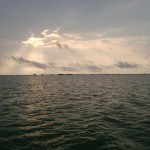 Exploration news greets us this Aloha Friday on several fronts: Bahamas, Mexico, and Hawaii.
From GUE and Project Baseline on the Pacific Provider at Andros Island, Bahamas
Project Baseline reports:
"Last night, a team of four technical divers dove off the back of our expedition vessel to about 200 feet off the coast of Andros Island, the largest of the Bahamian Islands, to the seldom visited Hole in the Wall. They returned with stunning images and video of this remarkable tunnel-like feature and the abundant life on and around the wall."
Some history behind the formation of this new exploration initiative can be found here and more on the project (with pics) here.
From GUE's Mexico Cave Exploration Project (MCEP)
On going exploration in the Sian Ka'an Biosphere Reserve:
And Kona, Hawaii
The coconut wireless tells me some big names in underwater cinematography are in town and were shooting Pelagic critters last night. Who knows what wonders were caught on film and might be seen in production in coming months?
Stay curious, divers. See you on the bottom!