Kailua-Kona, Hawaii
Located on the Big Island's leeward coast, Kailua-Kona features brilliant weather year-round, amazing reefs, and 355+ diving days a year. The Big Island is the "newest" (above water) Hawaiian island and the world's largest mountain (measured from the sea floor to Summit of Mauna Kea). Downtown Kona is 10 minutes from our own (outdoor!) international airport with direct flights from Alaska, US & Canadian West Coast, Phoenix, Chicago, Denver, and neighbor islands. There are easy connections for the rest of the US, Canada, and Pacific Rim countries and islands, often through Honolulu, a short 28-minute flight away.
underwater features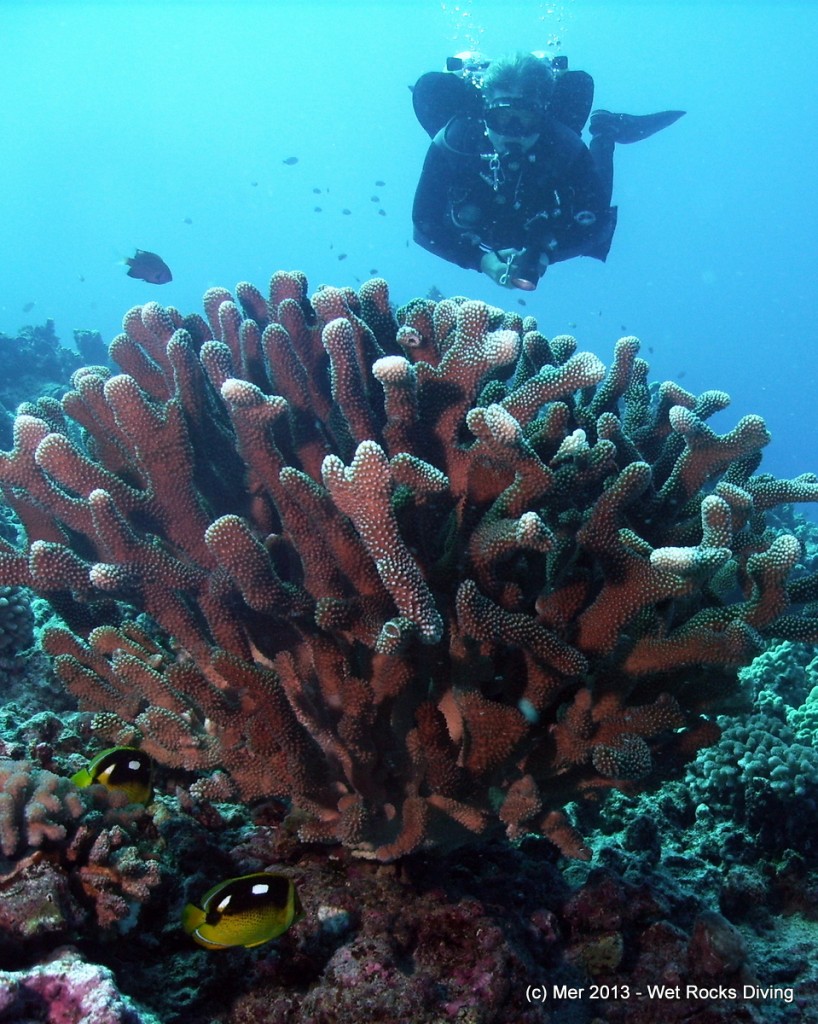 Healthy reefs, lots of macro opportunities, nudibranchs, hard corals, many fish, and turtles. Mostly rocky coast and no surface rivers means typically great visibility (80-150'+). 45 degree reef drop off close to shore means short boat rides, easy logistics for tech dives, and potential for large-animal encounters. Tech-depth dives feature several species of fish not found shallower and a change in coral population, including wire coral and black coral forests, as well as some interesting topography including canyons and submerged craters. Extensive mooring ball system removes need for anchoring at many sites, making eco-tourism significantly less impactful. Water temps vary from high 70s in summer to low 70s in winter. As some of our neatest critters are well-camouflaged, you'll see the most with an experienced local guide.
Biggest island in the chain means it's easier to hide from big summer or winter swell events here than on other islands. Leeward location means calm seas protected from trade wind chop and more diving days. We often call it "Lake Kona" on the calmer days.
The most famous Kona dive is the manta ray night dive when sometimes dozens of mantas congregate to feed on plankton attracted by divers' bright lights; an event unique to the Kona coast. These 10-14′ wingspan creatures are occasionally seen cruising the reef during the day. Special 3-tank long-range charters take you to less-frequented dive sites farther from town. Topside humpback whale sightings are common, especially mid December through mid April (with the occasional rare underwater encounter!). At various other times of year, we encounter pilot whales, hammerhead and oceanic sharks, and the occasional whale shark. With deep water so close to shore, the surface interval can be entertaining indeed! Resident pods of dolphins relax in shallow bays and play in boat wakes.
Find out more about Kona Diving.
topside adventures
22 of the world's 23 climate zones and altitudes from 0′ to 13,796′ await you; if you don't like the weather, drive 20 minutes! The weather in Kona Town and at the Kohala resports is typically warm, sunny, and dry with slightly wetter and cooler conditions above town. On Hilo side, the windward/ East side of the island, it rains frequently. Several of our attractions require visits to high altitude or transiting high altitude passes; therefore, advanced planing considering your dive schedule is recommended.
There's water activities from diving (duh!), snorkeling, kayaking, parasailing, submarine-ing, deserted-beach-discovering, and fast-boat tours. Find hiking of the coastal, mountainous, high altitude, dry and hot, wet and cool, or hot and sneaker-melting varieties. 6 of the 8 longest lava tubes in the world are on the Big Island; come explore prepared tourist cave or wild cave with features you would never imagine. You have your choice of world-class observatories and high altitude star parties, active volcanoes, waterfalls, double rainbows!!, culture, golf, shopping, and some rather epic food.
topside relaxation
Discover island-pace and talk story over a local beer during pau hana (literally "done work").  Relax and do nothing downtown at a locals' favorite joint, at your private condo, a secluded beach, a busy beach, a five-star resort, or a rustic o'hana. Sunsets, sunsets, and did I mention sunsets!