Mer's Recommended Course Progressions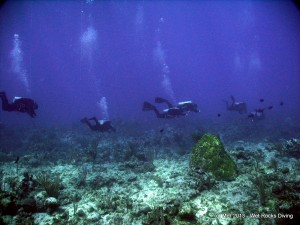 During your complimentary consultation, Mer will make a customized recommendation on the best GUE course or courses for you considering your experience, your challenges, and your diving goals. In the meantime, here are some of Mer's general recommendations to divers of all paths and ambitions:
Take your Fundamentals course as soon as possible. New divers see massive improvements in Fundies!
If you feel like you NEED to practice before Fundamentals, take Part 1 (2 day course) FIRST so you know what and how to practice. This is especially helpful if there isn't a large GUE community in your area. To make the most of your practice time and future class time, learn the right things and right way to practice as to build correct muscle memory.
Don't go to double tanks until you have solid buoyancy, trim, stability, control, and propulsion in a single tank. If you're having difficulty with doubles, go back to a single until you "nail" your stable platform. With a stable platform in a single, adding doubles, drysuit, and even advanced skills becomes easy and academic. This is why I often recommend new doubles divers take Fundies in a single, then a Doubles Primer (combined with Tech Upgrade) later.
It's ALL about the stable platform (buoyancy plus trim plus stability plus propulsion).
Where introduction of drysuit/drysuit primer fits best depends on your "home" conditions.
All aspiring cave/tech divers should strive to be proficient with a drysuit, ideally well before beginning cave/tech training. However, take Fundies in exposure protection in which your familiar; you'll learn more in the long run if you're not learning Fundies AND a new drysuit at the same time.
Here are some potential class progression paths based on typical diver goals:
New to SCUBA: Discover the underwater world!
Start with Recreational Diver 1, with or without the drysuit component
Go dive!
See where your underwater passions take you!
Aspiring Advanced Open Water Diver: Dive deeper and longer!
Go dive!
Rec 2: Learn rescue skills and learn how helium can make recreational dives more fun and safe.
Go dive!
Go dive! (You'll need at least 75 total logged dives)
Rec 3: Learn to dive using staged decompression and be able to access the entire recreational depth range with the right tools and procedures to have fun and stay safe.
Scuba Refresher  – Certified, but it's been a while
GUE Fundamentals Part 1 for a two-day review focusing on in-water skills. Add additional coaching days if you need a review of equipment assembly, dive physics, and/or dive planning.
OR
Recreational Diver 1 for a five-day review, including gear assembly, dive physics, planning, rescue, and all dive skills.
Aspiring Tech or Cave Diver – Currently Certified, with BP/wing and doubles experience
Go dive! (You'll need at least 100 total logged dives and recommend experience in the exposure suit and type of tanks used in your next class)
Tech Upgrade or Mer's Ascent Training Workshop (done on "fun" dives, few drills)
GUE Cave/Tech class
Aspiring Tech or Cave Diver – Currently Certified, but no doubles experience
There are two paths, during your complimentary consultation we'll make a recommendation which will be best for you!
GUE Fundamentals in a single
Go dive! (Now that you know what and how to practice)
Once solid with skills, Doubles Primer which can be combined with Fundamentals Tech Upgrade
Recommend for Tech, Required for Cave: Gain experience in a drysuit, a Drysuit Primer is available
Go dive! (You'll need at least 100 total logged dives)
Optional: Mer's Ascent Training Workshop (done on "fun" dives, few drills
GUE Cave/Tech class
OR
Aspiring Tech or Cave Diver – Not Currently Certified
Ready to start your GUE journey? Click here to Start Training with GUE.