Request more information from Wet Rocks Diving by using this form.

Featured Post
Only a Few Seats Remain The schedule has been finalized! Classes will be taught by Wet Rocks Diving in some very special locations. If you're interested, please email us to be added to our mailing list so you won't miss … Continue reading →
Recent Posts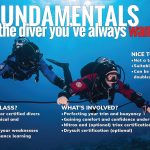 This gallery contains 1 photo.
GUE Fundamentals is coming to the New England area as Mer returns to her original stomping grounds in summer 2019. So far, all of the interest has been June and/or PA. Current opportunities are 2 classes at Dutch Springs, PA. … Continue reading →