Request more information from Wet Rocks Diving by using this form.

Featured Post
Updated: Oct 2021 It's been super busy during COVID and as things are opening back up. Running classes outside of Florida is still… complicated. But we are starting to look into them more as vaccination rates go up and positivity … Continue reading →
Recent Posts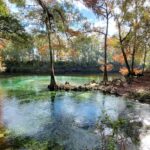 This gallery contains 1 photo.
Fall is so pretty here in North Florida, USA's Cave Country… the humidity is gone, there are the subtle warm colors in the trees to replace the warm-everything-else, there's less rain and often the cave conditions are spectacular. It's beautiful… … Continue reading →