Verify a GUE Certification Card
To verify a diver's Certification from Global Underwater Explorers (GUE), visit this page.
All that is needed is the certification number on the card.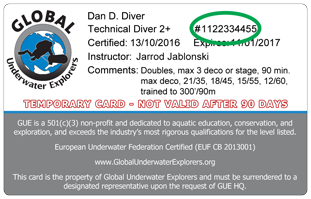 Global Underwater Explorers (GUE) is a comparatively-small but global and internationally recognized organization providing all levels of SCUBA diving training, from learn-to-dive to cave and technical training. GUE's headquarters are located in High Springs, Florida, USA.
GUE is a 501(c)3 non-profit and dedicated to aquatic education, conservation, and exploration. GUE certifications exceed the industry's most rigorous qualifications for the level listed.
European Underwater Federation Certified (EUF CB 2013001)
Some GUE courses are also EN 14153-2, ISO 24801-2, & ISO 11107 certified.