High Springs and Florida Cave Country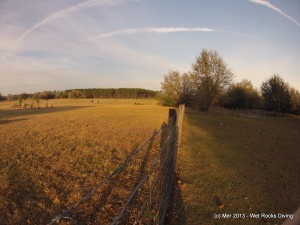 Located a short drive from 3 international airports (Jacksonville, Tampa or Orlando), as well as Gainesville Regional Airport, a cave or springs trip can be a long weekend getaway, a multi-week vacation, or anything in between. Mild winters and abundant air-conditioning make this a year-round destination; spring fed sources are a consistent water temperature year round! With many springs fed by the large Floridan aquifer and several large surface rivers, much of the area's tourism (and industry) is centered on or reliant on water. A substantial amount of the area's water transport from inland to the Gulf of Mexico is underground, including springs that break out from underground to start a river as well as rivers that "sink" below to surface to flow underground only "rise" to the surface again several miles later. Come enjoy North Florida's waters!
underwater features
Open Water divers will find many springs to visit and underwater wildlife to watch including many varieties of birds, fish, and turtles. Places where tannic river water and clear spring water meet can produce spectacular visual effects. Cave divers will be in their element with caves to check out all over the state. Most of the underwater caves in Florida are dissolution caves where weak carbonic acid in groundwater has dissolved passageways through the limestone over thousands of years, creating beautiful scallops and other delicate formations. Flood periods have created multi-colored clay banks from various silt and sediment deposits. There are a variety of mineral deposits, strange bio-mats, and troglobites, blind, albino, cave-adapted critters such as crayfish and salamanders. There's big cave, small cave, shallow cave, deep cave, gin-clear waters, murky low-viz waters, no flow, and high flow systems. Come found out why we call it cave country!
topside attractions
On water activities are numerous in the area's various rivers and many natural springs. You could canoe and kayak with self-guided rental or using outfitters that provide transportation and even guides. There is tubing of the sober (Ichetucknee and other parks) or not-so-sober variety (Ginnie Springs Outdoors). For those unfamiliar, tubing involves large vinyl tubes or rafts, your happy self, and a river to float down. Or you could swim and snorkel in the plethora of springs both inside and outside of state parks, even swim with Manatees (Crystal River). There is amazing wildlife watching both in and around the water.
For dryer activities, there is much hiking available in state parks, BBQ joints to sample, and Mermaid Shows. Camping is available at both state parks and private campgrounds. There is dry cave in the area as well, both horizontal and vertical systems, stretching from the Panhandle to the Ocala area. Or you could check out some flow-stone speleothems; the Florida Caverns State Park in Marianna offers cave tours to the general public 5 days a week.
regional attractions
The proximity of Gulf and Atlantic Ocean beaches and Disneyworld in Orlando bring potential for a multi-purpose visit to the area.
To North Florida links page – your hub of information for all things North Florida