Recreational Diver Level 2 – Navigation, Rescue, & Triox
What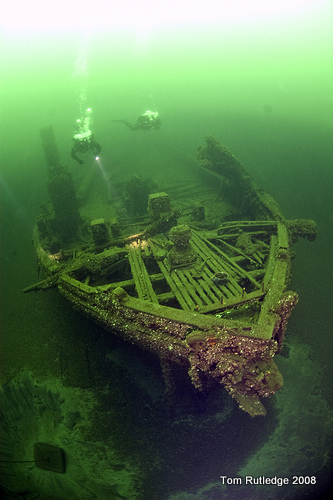 Take your recreational diving deeper. In this no-mandatory-decompression course, learn to dive hyperoxic recreational trimix (called triox or 30/30) to a maximum depth of 100ft or 30m. Learn more about diver rescue and emergency management via intensive practice sessions of land, surface, and underwater rescues, include role-playing scenarios. Gain additional underwater navigation techniques. Night diving may optionally be included in this class. Recreational Diver Level 2 is GUE's take on the diving industry's "Advanced Open Water" course.
*New* This course can also be taken piecemeal as 3 separate primers; one topic at a time. Each topic is roughly 2 days long. We strongly recommend you take the Navigation primer prior to taking the Rescue primer. Once all three primers have been successfully completed, the Rec 2 Qualification has been earned.
Why
Learn how to dive deeper safely using gas mixtures that reduce narcosis and post-dive "nitrogen stress" and how to manage ascents from deeper depths. Be a great buddy and team asset by getting hands-on instruction and practice on various dive rescue techniques. Learn dive light communication skills and other protocols for diving at night (or lower visibility) and experience the different cast of underwater critters out at night!
Duration & Content
5-6 days (depends on local logistics)
2 or more students
Involves classroom, hands-on field drills, diving, and video analysis
Optional night dive (depends on local logistics and student desire)
Requirement Highlights
GUE Recreational 1 or Fundamentals graduate (Rec or Tech level)
At least 25 lifetime non-training dives
Swim test: 300 yards in 14 mins and 50 foot underwater breath-hold swim
Basic GUE system equipment, single or double tanks (if already experienced in doubles)
Complete course requirements available here
Ready to take your recreational diving to the next level? Click here to Start Training with GUE.
Fun Fact: Mer of Wet Rocks Diving is the Primary Author of the Navigation Manual for Rec 2.