GUE Fundamentals Part 1 (formerly called GUE Primer)
What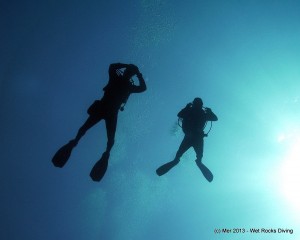 This course introduces certified divers to the GUE method of diving, including GUE System equipment (backplate, wing, harness, long hose, fins, etc.). Focus is on buoyancy, trim, stability, control, propulsion, maneuvering, pre-dive checks, team diving, situational awareness, and why we do these things the way we do them with this specific equipment set-up. These basic skills are useful for both the 30′ reef enthusiast and the deep cave explorer alike!
Why
Fundamentals Part 1 is a class suitable for certified divers with 5 or 5,000 dives. Whether this class is your only GUE class or the first class of a Cave/Tech diving adventure, you will learn something new and useful! Frequent reasons divers take this class include:
Find out what GUE is all about
Refine basic diving skills
Put some new "tools" in the bag (e.g. new kicks!)
Gain capacity that will increase your safety and enjoyment while diving
Prepare for Fundamentals Part 2: learn what to practice and the right way to practice (great for divers with aspirations to proceed to Rec 2 or 3, Cave, or Tech training after achieving Fundamentals certification)
Duration & Content
1 – 2 days, depending on logistics and divers' goals
1 or more students
Involves classroom, hands-on field drills, and diving
Classroom-only option available for those who do not qualify or do not wish to do the in-water portion (reduced tuition)
Topics: Why GUE, equipment fit and function, buoyancy, trim, stability, control, propulsion, maneuvering, situational awareness, team diving, pre-dive sequence, and basic SCUBA skills.
*New* Fundamentals Part 1 Course vs GUE Primer
Since many GUE instructors were running the 1-day Primer course as a 2-day class covering most of the material from the first two days of Fundamentals, we decided in 2015 to formalize GUE Primer into an official part of the GUE Fundamentals program.
2 day course, if student seeking credit for Part 1 of GUE Fundamentals
Upon successful completion of Part 1, student eligible for the 3-day Part 2 class to complete GUE Fundamentals
Essentially the same content as the 2-day GUE Primer
Requirement Highlights
Open mind, prepared to learn
No swim test required
Basic GUE system equipment, singles or double tanks, rental may be available
Complete course requirements available here
Additional Materials: Beginning with the End in Mind PDF book (UPDATE: Now included with your student materials)
Aspiring Rec 2/3, Cave, or Tech divers will get the most out of this class if they own their GUE-system equipment
Ready to take your first GUE class and see what GUE has to offer you? Click here to Start Training with GUE.