Kona, Hawaii
CONDITIONS
Water temps vary from high 70s in summer to low 70s in winter. Drysuit diving is an option. Diving wet multiple days? You'll likely want a 5-7mm wetsuit and a hood or hooded vest.
For more on Kona underwater and topside conditions, features, and attractions, see our About Kona section. For more about dive training in Kona, visit our Benefits of Training In Kona section.
HIGH SEASON
July or August, mid October (Ironman), Thanksgiving week, Christmas week to New Years week, mid-March to early April (Spring Break). Please book well in advance if you're planning your Kona trip during high season, as charter boats will fill (or they'll be out of rental cars at KOA). Some hotels and resorts will define high season differently, it will always include Christmas Week and Ironman (mid October), so be sure to ask your hotel or resort.
RECREATIONAL DIVING – LOGISTICS
Nitrox is easily available. Both shore and boat diving available. Shore diving can be challenging during swell, although some sites offer protection from certain swell directions; boat diving available 355+ days a year. Al80 (11L) singles and Al80 doubles available with very limited quantities of steel singles. Doubles and steel singles must be reserved. Hard v-weights available. Doubles divers wanting to do a 3-tank long-range should be qualified to dive a bottom stage for first dive, as most boats will not have space for two sets per diver. Dive charters include weights, camera rinse buckets, freshwater showers, drinking water, snacks, and often a light lunch. If you are particular to soft or hard weights, please inquire in advance. Transportation is generally not provided from hotels to the harbor. GUE System equipment may be rented from Wet Rocks Diving or our partners. Wet Rocks can recommend charters with excellent customer service and experienced (critter finding) guides. If booking yourself direct, make sure to specify nitrox with the charter. Local practice is often to use 36% for second dive, so please specify if you'd like both tanks to be 32%.
Want to come experience Kona diving for yourself? Find out more about our Guiding Services.
MANTA NIGHT DIVE – PROTIPS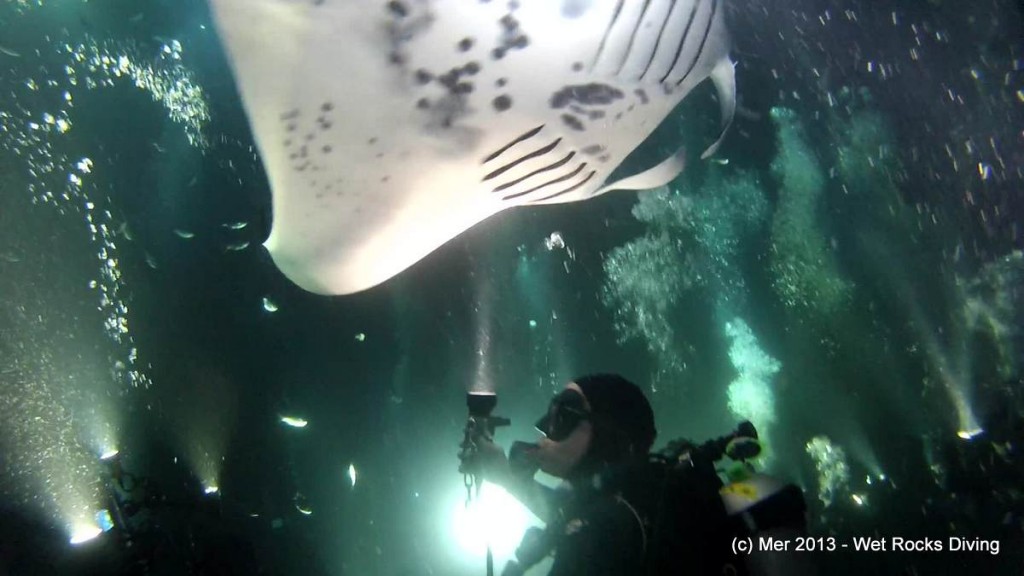 Seeing 10-14′ wingspan mantas on the reef during the day can be majestic; however, watching the feeding frenzy at night is exhilarating! First-timers to Kona should put this dive on your "must do" list. Once is sufficient, but schedule it early in your trip in case of weather/surf complications. Due to the depth (or lack thereof) of this dive and the trim (or lack thereof) required, Wet Rocks Diving recommends single tanks for this dive. Doubles are fine if that's the only kit you are bringing. Bring a sweatshirt; drysuit divers will be happy. Bring the BFLs, the HID lights that is, and you'll be the center of the plankton and therefore manta attention. Bring your non-diving friends and family to snorkel. Bring the GoPro. Don't let your regulator fall out of your mouth. And remember, Crazy Frank is (mostly) harmless.
Want to come experience Kona diving for yourself? Find out more about our Guiding Services.
TECHNICAL DIVING – LOGISTICS
Want to check out some different or rare fish species or see some black coral bushes? Several shore sites offer tech depths; several more offer tech depths with the use of scooters, which are available to rent from Wet Rocks Diving's partners to qualified divers. Due to our rather rapid drop-off on the Big Island, tech dives can often be accomplished from the moorings as recreational dives and therefore frequently do not require a special charter. Tech dives from charter boats will require use of a qualified, local guide from Wet Rocks Diving or our partners; an evaluation dive may be required prior to any decompression diving.
Wet Rocks Diving and partners have GUE System equipment, double Al80s, Al6s, and stage-rigged Al80s, Al40s, and Al30s available for rent; we also can support rebreather divers with a couple types of drive bottles, bailout bottles, cleaning solution, and sorb. Trimix fills are by appointment only and employ use of a Haskel booster, so top ups are possible. Advanced reservation is required for rentals and trimix fills. Our oxygen/helium supplier is on island time and the other side of the island, so planning is key. Contact Wet Rocks Diving well in advance of your trip and we'll help arrange an itinerary that meets your interests.
Want to come experience Kona diving for yourself? Find out more about our Guiding Services.