Recreational Diver Level 3 – Trimix, Recreational Deep
What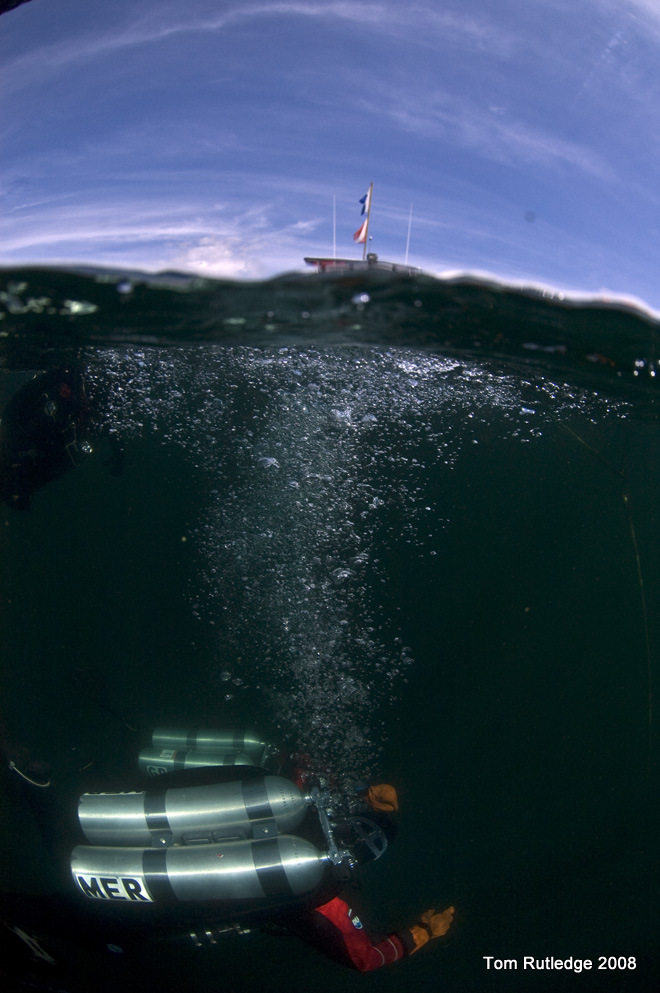 This course teaches students to plan and conduct dives on nitrox or helium mixtures to a max of 130ft (40m) using 32% nitrox, 30/30 triox, or 21/35 trimix. Conduct dives with a limited decompression obligation of 15 minutes or less by utilizing a staged decompression gas. Learn to the basics of double tank manifold failures troubleshooting and other contingency skills for decompression diving. This course is GUE's version of deep diver.
Why
Enjoy the full recreational depth range using the right gases and procedures for ultimate dive enjoyment. Trimix allows the diver to have clear head at depth, facilitating safer and more memorable dives. Planned limited decompression permits being able to stay down long enough to thoroughly enjoy the entire recreational depth range. Divers with aspirations of diving deeper than 130ft (40m) should consider going direct to Tech 1. While Rec 3 is NOT a pre-requisite of Tech 1, some divers find it to be an ideal incremental step for those with aspirations of deeper diving. This course is an excellent penultimate class for the recreational diver!
Duration & Content
5-6 days (depends on local logistics)
2 or more students
Involves classroom, hands-on field drills, diving, and video analysis
Requirement Highlights
GUE Recreational 2 or Fundamentals graduate (Rec or Tech level)
Recreational 2 is not a pre-requisite of Rec 3 for divers with GUE Fundamentals certification
At least 75 lifetime non-training dives
GUE Doubles Primer or proficient in doubles with 25 experience dives in doubles
At least 18 years old
Swim test: 300 yards in 14 mins and 50 foot underwater breath-hold swim
Basic GUE system equipment, plus double tanks, primary and backup lights, backup mask, decompression tank and regulator, and if diving a drysuit small suit inflation bottle and regulator
Complete course requirements available here
Ready to make the most of the recreational depth range? Click here to Start Training with GUE.