GUE Courses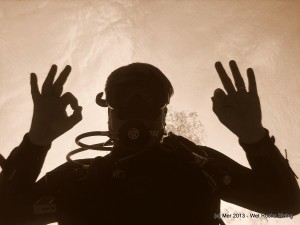 Wet Rocks Diving teaches the following GUE Courses from the Recreational, Foundational, and Cave curricula, described below. Should you aspire to pursue more advanced GUE training, we can provide guidance to get you going in the right direction.
Recreational Diver 1 (Rec 1) – Learn-to-Dive!
GUE's Open Water class for those who have never SCUBA dived before. Includes nitrox training.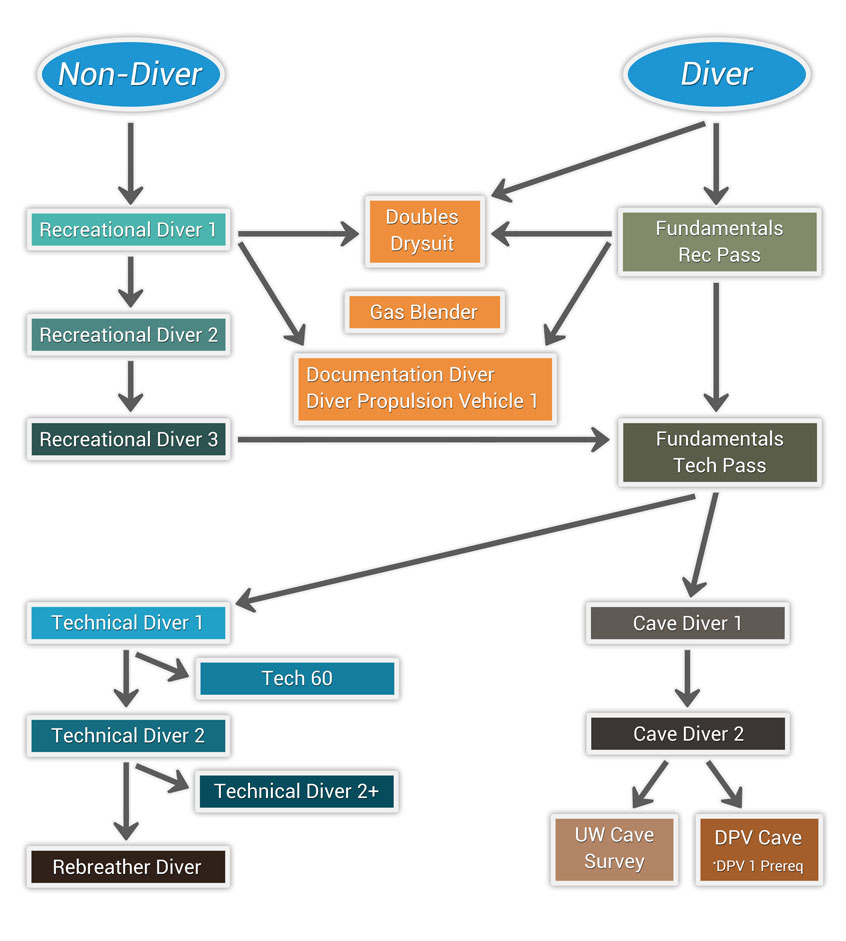 GUE Fundamentals Part 1 (Formerly GUE Primer)
Fundamentals Part 1 introduces certified divers to the GUE method of diving, including GUE System equipment (backplate, wing, harness, long hose, fins, etc.). Focus is on buoyancy, trim, stability, control, propulsion, maneuvering, pre-dive checks, team diving, situational awareness, and why we do these things the way we do them with this specific equipment set-up. These basic skills are useful for both the 30′ reef enthusiast and the deep cave explorer alike!
The GUE Drysuit Primer introduces certified divers to diving with a drysuit. Learn about the components of a drysuit system, considerations for diving colder waters, and drysuit diving techniques. Focus is on why and how we manage buoyancy when diving dry as well as refining trim, stability, control, propulsion, maneuvering, team diving, and situational awareness.
The GUE Doubles Primer introduces certified divers to diving a double (twin) tank configuration. Learn about the components of a double tank system, why and how to configure the system, and how to operate and dive with doubles. Refine buoyancy, trim, stability, control, propulsion, maneuvering, pre-dive checks, team diving, and situational awareness.
GUE Fundamentals – Our Most Popular Class
GUE Fundamentals, affectionately called "Fundies," introduces certified divers to the GUE method of diving, including GUE System equipment (backplate, wing, harness, long hose, fins, etc.), stable platform, propulsion, and basic skills useful for everyday diving and more advanced diving alike. Fundamentals is the gateway for non-GUE divers to qualify for advanced GUE training above the primer level classes. This course offers excellent training, practice, and feedback in skill refinement regardless if certification is earned or future GUE classes desired. It can be taken as one course or as divided into two shorter parts.
Fundamentals Tech Upgrade is a session which allows a GUE Rec 1 or GUE Fundamentals graduate to demonstrate they meet the Fundamentals Technical Rating requirements for entry to a GUE Cave 1 or Tech 1 class. If student's previous GUE training was in a single tank, best results may be achieved by combining a Doubles Primer with the Tech Upgrade.
Our's Recommended Course Progressions – Don't know where to start? Then start here.
Advanced GUE Training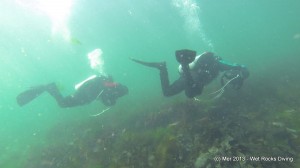 Diver Propulsion Vehicle – Level 1
Learn how to dive a diver propulsion vehicle (DPV). Learn how these underwater scooters work and how to operate them on recreational, open water dives. During this course, we cover features of various scooters, gas planning, normal operations, emergency procedures, and basic maintenance. Learn how to effortlessly cruise the reef or negotiate current. Scooter diving is ALL OF THE FUN!!
GUE Rec 1 or Fundies graduates learn project management and planning as well underwater photo, video, survey, modeling, lighting, sketching, editing techniques, publishing, and safe management of photo/video/survey equipment and team. Course focus is highly customize-able to the local features of where the class is taught and the interests/experience of the students involved. Put your refined skills to work in this super fun class. May also be taught in the Cave environment to GUE Cave 2 divers.
Recreational Diver 2 – Triox, Rescue & Navigation
GUE's version of Advanced Open Water. Learn to dive helium mixtures to a max of 100ft or 30m. Learn land, surface, and underwater rescue. Practice more advanced underwater navigation. Optionally may include night diving.
Recreational Diver 3 – Trimix & Rec Deep
Enjoy the full recreational depth range using the right gases and procedures for ultimate dive enjoyment. GUE's version of deep diver. Rec 3 introduces divers to the basics of double tank manifold failures troubleshooting, and how to plan and conduct dives on nitrox or helium mixtures to a max of 130ft (40m) with a limited decompression obligation, including a switch to a staged decompression gas. Have a clear head at depth and be able to stay down long enough to thoroughly enjoy the entire recreational depth range. Excellent penultimate class for the recreational diver or an optional incremental step for those with aspirations of deeper diving. This class is aimed at students un-interested in diving deeper than 130 ft (40m).
Gas Blender
This one-day, non diving course teaches students how to mix nitrox and trimix using partial pressure blending as well as other fill methods utilized at the hosting or personal fill station, as well as equipment considerations, safety, remixing, analysis, and proper labeling. There are no diving pre-reqs to this class.
Cave & Technical Training through GUE 
As a GUE Cave 2, Tech 2+, JJ-CCR diver, Mer is familiar with the classes below. Other members of the Wet Rocks Diving team have also taken many of these GUE classes. Email us today to discover if any of these classes are right for you! We will recommend the right pre-requisite courses to complete your skill-set preparation for these upper-level classes and recommend instructors for your additional GUE training.
Not sure if you'll like cave diving, book a Cave Experience/Try-Dive.
Cave 1, Cave 2, Cave 3, Cave Triox, Cave DPV, Cave Survey: Explore the wet rocks of underwater caves, delicate formations, massive rooms, beautiful clay banks, twisty passage, awe-inspiring speleothems, and unique cave-adapted critters. At Wet Rocks Diving we have passion for cave diving! Wet Rocks Diving offers Cave 1 instruction, as well as coaching pre- or post- cave class to brush up your skills or master & enjoy high flow caves. Cave guiding is available to certified cave divers from most agencies. Also, Wet Rocks Diving arranges Cave 2 classes, which may include the benefit of two instructors for the price of one! Please inquire.
Tech 1, 1+, Tech 60m, 2, 2+, 3, and Rebreather: Explore deeper or longer with the right gases and procedures that allow you to see those wrecks, reefs, or fish not seen within the limits of recreational diving. GUE offers both semi-closed rebreather (PSCR via RB80) and closed-circuit rebreather training (JJ-CCR). Wet Rocks Diving offers coaching and workshops, focusing on refining your Fundamentals skills and ascent precision to help you make the most from your Tech class. Wet Rocks Diving offers Tech 1 instruction.
Are you ready for the best dive class of your life? Click here to Start Training with GUE.