Cave Workshops
Cave workshops focus on a specific skill or environment in which you are already certified, but want to improve. They will be more structured than mentoring or coaching, but less rigid than a formal course. Most workshops will NOT offer certification; rather, your reward is the knowledge and experience.
To see our full list of workshops, visit here, as this page is cave-only workshops.
If you're interested in any of our Workshops, please email us.

CAVE WORKSHOP TOPICS
Topic
Ideal For:
Typical Duration
Description
Flow is Fun!
Cave divers new to flow
OR any cave diver
1-2 days
Learn or improve how to dive high-flow caves. Learn or refine your pull-n-glide technique and how to read the cave. Learn tips and tricks for certain caves. Team or private.
Cave Propulsion
Cave diver,
any level
1 day
Refine your propulsion or learn new kicks. Includes application in cave environment. Team or private.
Deep Cave
Cave 2 with Experience,
Plus Tech 1 or Tech 2
2-3 days
Are you an experienced cave and tech diver, but have only done deep (100ft/30m+) diving in open water? Expand your cave diving into deeper sites and learn strategies for planning and equipment management that are a bit different in the cave compared to open water/ocean. Team or private.
Cave Support
Cave 2 and Cave DPV,
with Experience
2-3 days
Are you an experienced cave and cave DPV diver and want to get involved with project support diving? This workshop provides pro-tips on managing and transporting extra tanks, DPVs, and other equipment used in exploration. Team or private.
GUE Leading EDGE
Performance Workshop
(see below)
Any GUE level OR
those preparing to take
next level class
2-3 days
Based on one particular course (e.g. Fundamentals, Cave 1 etc) Get brought up to speed on changes since you took your course, refine your skills, and receive feedback. Practice critical, scenario-based, or emergency skills in a safe setting. Fundamental Upgrades and/or expired card renewals possible, if requirements met. Team-based.
And many more.
Some GUE Leading EDGE Performance Workshops are large, regional events, often with a draw of divers from beyond that region.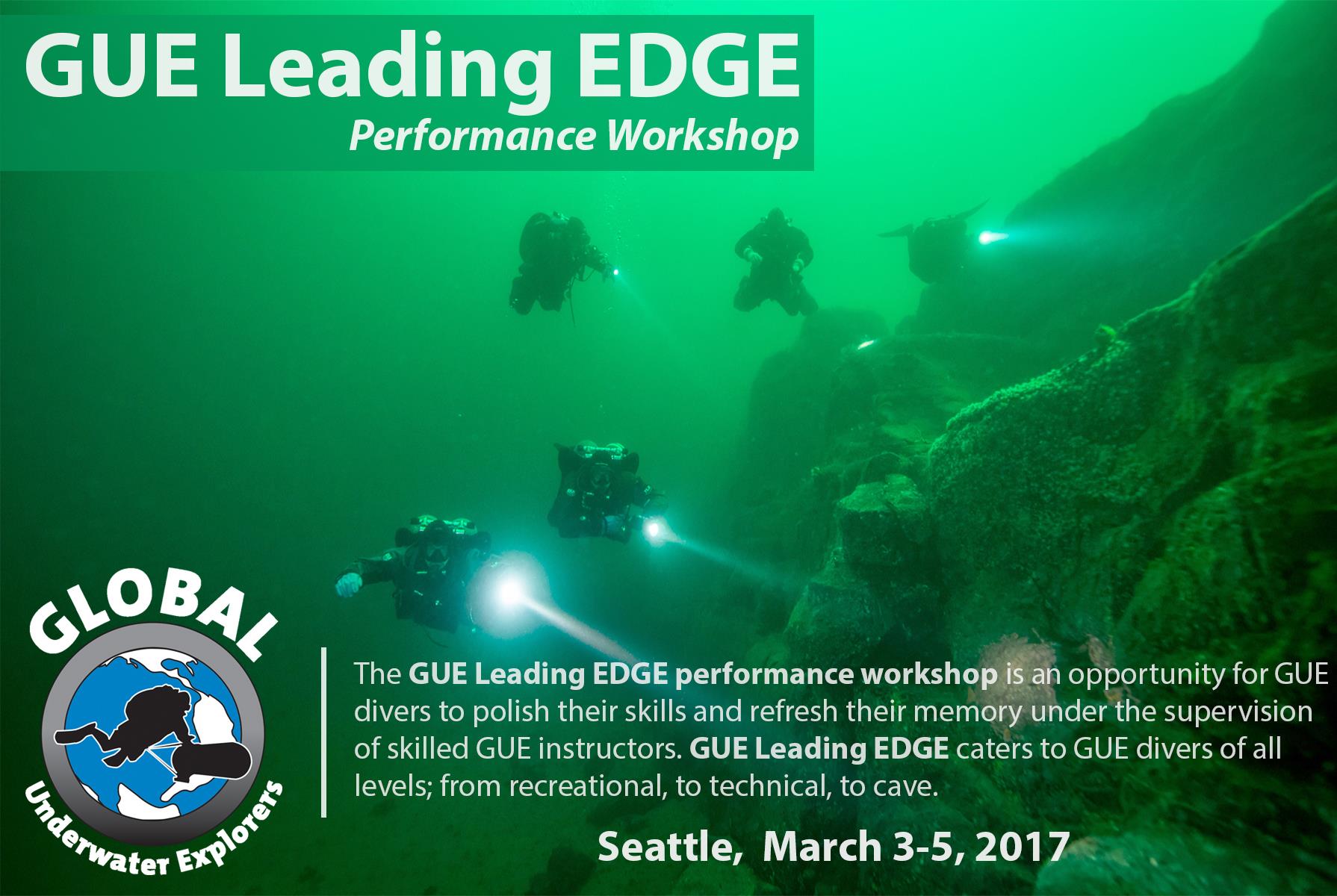 This workshop will feature at least eight GUE instructors from around the world, each of whom is an expert in recreational, technical, and/or cave diving. As an added bonus, Gareth Lock from the Human Factors Academy will be joining us and providing one of our evening presentations. The event is hosted by GUE-Seattle and GUE-BC.
Current Instructor Roster Includes:
Guy Shockey – Tech (British Columbia)
Karim Hamza – Tech (California)
Graham Blackmore – Tech (UK/Asia)
Meredith Tanguay – Cave (Florida/Hawaii)
Liz Tribe – Fundamentals (British Columbia)
Alex Adolfi – Fundamentals (Seattle)
Joakim Hjelm – Fundamentals (British Columbia)
Kelly Colwell – Fundamentals (Nevada)
Michael Puz – Fundamentals (Philippines)
… and maybe more!
During the GUE Leading EDGE Performance Workshop, GUE divers will have an opportunity to work on everything from propulsion techniques, to bottle rotations, to S-drills, to team skills. We have designed a schedule that includes classroom sessions to update you on the latest dive planning strategies, as well as field drills and coaching dives to polish your diving techniques.
For Fundamentals-level students looking to upgrade provisional or recreational status to the next level, this workshop is the perfect opportunity to improve the skills required to earn your next qualification. For technical and cave divers, this is a chance to improve critically important technical diving skills (such as failure management) under the supervision of an expert. This workshop will help us to ensure that we're among the best-prepared and most up-to-date divers in the world.
There are a limited number of spaces available. If you're interested in the Performance Workshop or any other Workshop, please email us immediately to secure your spot.