GUE's Learn-to-Dive Course is Different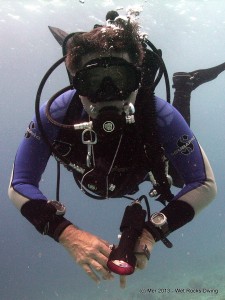 GUE's Learn-to-Dive course, called Rec 1, is longer and more rigorous than the typical beginner's class… on purpose and un-apologetically. You are a mammal wanting to breathe underwater; rigorous is not a bad thing. The longer class format allows new divers to gain the appropriate skill and experience that will make them comfortable, competent divers once they leave class. Comfort and competence is what allows you to enjoy your time underwater and have fun, rather than be stressed or feel intimidated by this new, underwater environment.
GUE's Rec 1 class is taught with all skills done in neutral buoyancy (hovering rather than kneeling/standing on the bottom) and in horizontal trim (the position experienced divers will dive in for best control and enjoyment underwater). This is how experienced and advanced divers dive, so why not learn this method from day 1? GUE's Learn to Dive method truly begins with the end in mind so that you can better enjoy the underwater world, explore pristine reefs and sites without damaging the environment, and learn a system that will require the least amount of re-learning should your interest in diving blossom.
So in this sense, GUE's Learn to Dive program is not comparable to most courses offered in the SCUBA industry; however, if one were to try to compare Rec 1 with most other offerings, Rec 1 essentially includes several "specialties" in the basic certification:
– Learn-to-Dive (Open Water Diver)
– Nitrox
– Peak Performance Buoyancy
– Some elements of Stress & Rescue Diver
– Navigation
– Boat
– Drift
– Wreck (in some locations)
– Drysuit (optional and based on location)
– Certification to 70ft/21m vs. industry normal of 60ft/18m.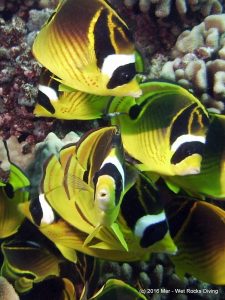 Add up the price of all these specialties and GUE Rec 1 shows its value. And, you learn all of this in a very small class size. In fact, most of Wet Rocks Diving's Learn to Dive courses are offered semi-private: with a maximum of two learn-to-dive students per class.
Sounds great; but, what if I don't know if I will like diving? In certain locations, Wet Rocks Diving will offer the first two days of the Rec 1 program without a commitment to finish the class. While this will not provide certification, it gives a prospective diver the opportunity to try the sport before committing to the full 6 days and full tuition.
Find out more about GUE's Rec 1 course here.
Ready to start exploring the underwater world? Click here to Start Training with GUE or email us today.