Why Train with Mer and Wet Rocks Diving
Skip to Mission Statement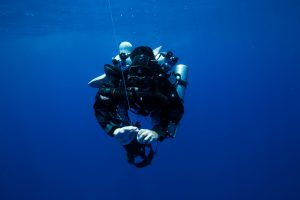 Involved with GUE since 2003
Trained with the Founders of GUE
Been in your shoes

Mer (and others on the Wet Rocks Diving team) learned to be high-capacity divers via GUE Fundamentals and learned to Cave dive and Tech dive through GUE.
This makes us very familiar with the psychology of the process our students experience since we dealt with fixing our own real problems during these GUE classes.

15+ years in education, 5+ years in SCUBA education
Heavily involved in projects and other volunteer efforts in diving

Cave exploration
Project Baseline major missions & R/V Baseline Explorer

Believe in fair and balanced feedback

We identify what worked and WHY
We identify what could be improved and SPECIFIC solutions to YOUR focus areas
We establish priorities for how YOU should train
We put you on a trajectory of improvement with specifics on how to continue that trend even once class is over

Empathy without compromising high standards
Judgement-free zone for Fundamentals

About Mer         Testimonials           Start Training with Wet Rocks Diving

---

Wet Rocks Diving: Mission, Vision, Values, Beliefs

Mission:
Evolve, Excel, Explore, Enjoy.

To cultivate high capacity divers, to form high-functioning teams, to develop capable dive professionals with careers worth having, while exploring and conserving our underwater world… and having a heck of a good time while at it.

Vision:
To be the dive training and guiding company of choice for DIVERS who seek the best.
To be the team of choice for DIVE PROFESSIONALS who seek the best development and partnership.

Values:
Knowledge
Excellence
Safety
Enjoyment

Belief System:
Commitment: in all things
Integrity: do the right thing
Teamwork: together everyone achieves more
Trust: starts with honesty
Win-win: or no deal
Exploration: stay curious
Conservation: is the reason, not the afterthought
Communication: seek first to understand
Success: results through people

Perspective:
Wet Rocks Diving is a team of dive educators and dive guides. As a high-quality SCUBA education and guiding company, we empower our clients to improve their dive capacity, safety, and fun through:

commitment to excellence,
uncompromising standards,
professional development and partnership,
honest and balanced feedback,
solutions and support,
while conserving the aquatic environment we love and
cultivating exploration on both personal- and global- scales.