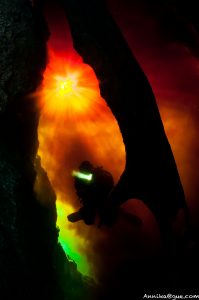 Coming this fall… a very special GUE Cave 1 class: Mer and Gideon are teaming up to teach a joint Cave 1 class in North Florida the week before GUE's 2017 Global Conference in nearby Gainesville, Florida.
Two instructors for the price of one!
Gideon is based in Asia and is an active cave diver there, in Mexico, and Australia. He is one of GUE's Technical Instructor Evaluators and teaches all levels of Tech plus Cave 1.
Mer is a Florida local and a member of several Florida-based cave exploration teams. She also frequents Mexico and is a Dive Safety Officer for Project Baseline major missions, like those on R/V Baseline Explorer.
This class will be open to up to 6 students. Tank rental, nitrox, and lodging packages are available.
For more information about the class, please contact Gideon or Mer.
For more information on Florida, please contact Mer.