Team Mike, AKA Team Short Bus
Never (yet) have I had a team with so many potential team names. Team Mike, AKA Team Short Bus (not because they were riding it, but because one of the Mikes actually drives a short bus), AKA Team GQ, etc.
Regardless, Team Short Bus had a great week in North Florida in GUE's Cave 1 class in Aug 2017. Congratulations to Mike D "AKA Superman" for successful completion of Cave 1 and Mike W "AKA Leaky" for completing his Cave 1 Triox Upgrade while standing in as a teammate for the other Mike. When you have two Mikes, you get nicknames!
What team name will your class or group earn?
---
We had some great weather…
And some typical Florida afternoon summer downpours…
Had just the right river height to see the spectacular tannic water mixing effect at Ginnie Springs' Devil's Ear…
We followed lines…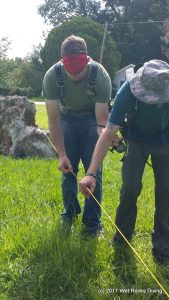 And had a great time…